APNL Presents All About ADHD
Presented by:
APNL
Category:
Meetings, Conferences and Workshops
Price:
$0
Date:
October 17, 2017 – October 17, 2017
Time:
7:00 PM – 9:30 PM
Address:
Capitol Hotel, St. John's, Newfoundland and Labrador
Website:
http://www.apnl.ca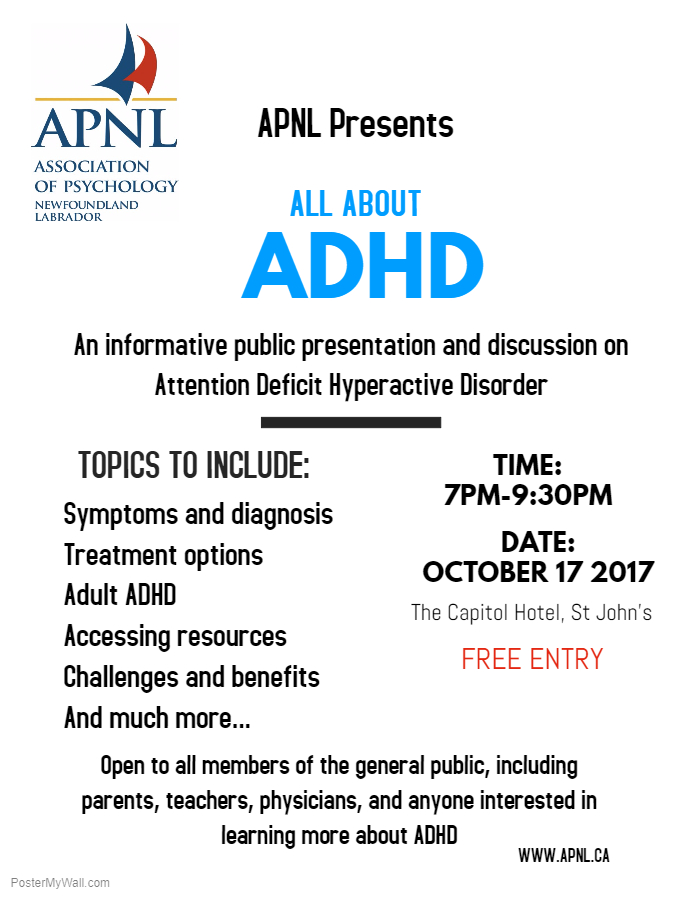 The Association of Psychology Newfoundland and Labrador (APNL) Presents All About ADHD. An informative public presentation and discussion on Attention Deficit Hyperactivity Disorder. Topics to include: symptoms and diagnosis; treatment options; adult ADHD; accessing resources; challenges and benefits; and much more.
Tuesday October 17th 7-9:30pm, Capitol Hotel. Free admission and no registration required.
Open to all members of the general public, including parents, teachers, physicians and anyone interested in learning more about ADHD.
Visit http://www.apnl.ca or the APNL Facebook or Twitter accounts for details.
—-
At Volunteer St. John's we do our very best to make sure event information is accurate and reliable; however, mistakes or unannounced changes may occur so we do not guarantee accuracy and will not be held responsible for errors. If your event is listed incorrectly or if you would like to provide additional or more accurate information please
contact us
.
Social Media Links
Get Directions
Capitol Hotel