Comedy Session Sundays
Presented by:
Puffin Hut
Category:
Arts and Entertainment
Price:
$7
Date:
July 1, 2018 – July 1, 2018
Time:
8:30 PM – 11:00 PM
Address:
268 Water Street, St. John's, Newfoundland and Labrador A1C 1B7
Website:
https://www.facebook.com/pg/puffinhut/about/?ref=page_internal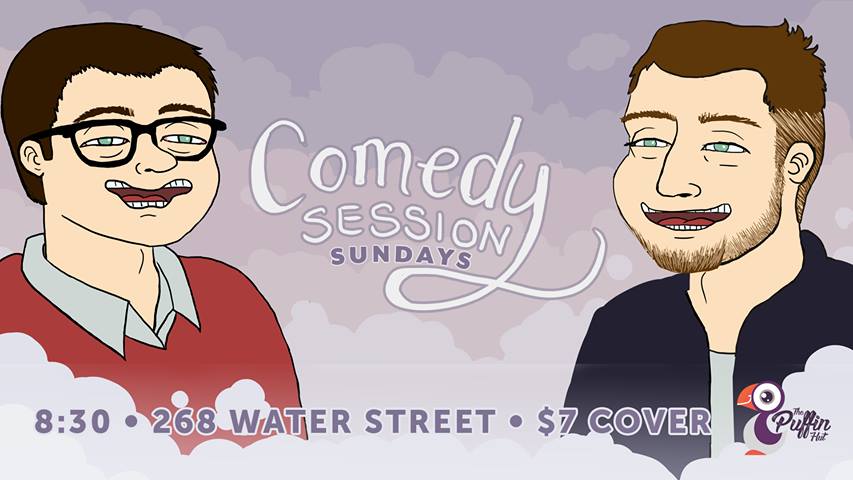 Luke Lawrence and Lindsay Barron host an amazing show every Sunday! Each week brings another hilarious headliner, get down early to secure a couch 🙂
B.Y.O.B*
19+
$7
Lindsay Barron is a wild maverick in the St. John's, NL comedy scene. His outlandish stories and foolish antics are sure to leave you with a smile on your face and a hearty ache in your belly.
He's opened for the likes of Manolis Zontanos, Adam Christie, Mark Walker and Francois Weber.
Luke Lawrence is often described as an edgy comic with a high-energy persona. His personal and wildly entertaining performances connect with a broad audience through topics about world travels an job troubles. These raw and unfiltered stories end happily and offer an affectionate glimpse into the the underworld of contemporary pop culture.
He has toured across Headlined comedy clubs from Atlanta to Bangkok and recently preformed at The Comedy Store in Manchester U.K
—-
At Volunteer St. John's we do our very best to make sure event information is accurate and reliable; however, mistakes or unannounced changes may occur so we do not guarantee accuracy and will not be held responsible for errors. If your event is listed incorrectly or if you would like to provide additional or more accurate information please
contact us
.
Social Media Links
Get Directions
268 Water Street, St. John's, NL