Merry & Bright Light Festival
Presented by:
MUN Botanical Garden
Category:
Festivals
Price:
$10
Date:
December 16, 2016 – December 16, 2016
Time:
6:00 PM – 9:00 PM
Address:
306 Mt Scio Rd, St. John's, Newfoundland and Labrador A1B 4L6
Website:
http://www.mun.ca/botgarden/event/lightfestival.php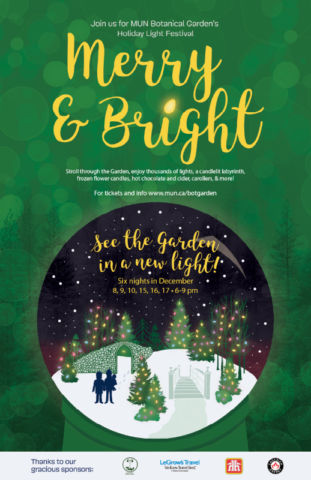 As MUN Botanical Garden isn't usually open in December, we wanted to share with you what our garden elves have been up to.
As you walk around the gardens you can
• Walk through a caterpillar of lights
• See some Hollywood holiday favourites
• Be mindful while walking our candlelit labyrinth of memories
• Purchase hot chocolate provided by the Garden Café,
and don't forget to bring your reuseable mug!
• Enjoy carollers singing your holiday favourites
• Take a family picture in our glamorous gazebo
• Stop by our Garden Gift Shop for some great Christmas gift ideas
• And more!
Come see the Garden in a new light: You will walk away feeling Merry and Bright!
The festival is on six nights in December: Thursday, Friday & Saturday – December 8, 9, 10 & 15, 16, 17. Doors will open at 6 pm, and last admittance will be at 8:30 pm, finishing up for the evening at 9 pm.
To purchase tickets please visit: http://www.mun.ca/botgarden/event/lightfestival.php
More information at: http://www.mun.ca/botgarden/event/lightfestival.php
—-
At Volunteer St. John's we do our very best to make sure event information is accurate and reliable; however, mistakes or unannounced changes may occur so we do not guarantee accuracy and will not be held responsible for errors. If your event is listed incorrectly or if you would like to provide additional or more accurate information please
contact us
.
Social Media Links
Get Directions
306 Mt Scio Rd, St. John's, NL