Nikki Payne: The Stand Up Comedy Spectacle
Presented by:
LSPU Hall
Category:
Arts and Entertainment
Price:
$30
Date:
January 14, 2017 – January 14, 2017
Time:
8:00 PM
Address:
3 Victoria Street, St. John's, Newfoundland and Labrador A1C 3V2
Website:
http://rca.nf.ca/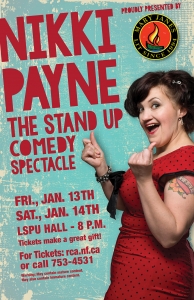 Hilarious award winning stand-up comedian Nikki Payne brings her bold, brazen brand of comedy to the LSPU Hall January 13 and 14! You know this Canadian comedy icon from her own televised stand-up specials and her performances in comedy festivals like Just For Laughs, as well as her appearances in TV shows like "MuchMusic Video On Trial" and "Last Comic Standing." This January, this comedic force of nature will be joined by some favorite local comedians for a 90 minute laugh riot that will be sure to start your year off right! Please note that Nikki's performance may contain coarse language, flights of fancy, and audience interactions, and is therefore only appropriate for immature audiences.
More information at: http://rca.nf.ca/event/nikki-payne-the-stand-up-comedy-spectacle/
—-
At Volunteer St. John's we do our very best to make sure event information is accurate and reliable; however, mistakes or unannounced changes may occur so we do not guarantee accuracy and will not be held responsible for errors. If your event is listed incorrectly or if you would like to provide additional or more accurate information please
contact us
.
Social Media Links
Get Directions
More events at LSPU Hall
No Entries Found
Other Events