A Time in the Old Hall
Presented by:
LSPU Hall
Category:
Arts and Entertainment
Price:
$25
Date:
December 19, 2016 – December 19, 2016
Time:
8:00 PM
Address:
3 Victoria Street, St. John's, Newfoundland and Labrador A1C 3V2
Website:
http://rca.nf.ca/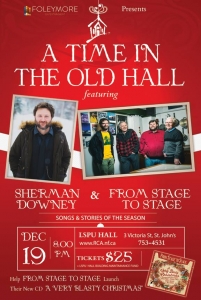 A Time in the Old Hall: Songs and Recitations of the Season featuring Sherman Downey and From Stage to Stage
The Christmas variety concert has long been a highly anticipated event on the social calendar of Newfoundland communities both large and small. For generations, folks of all ages have assembled to take the stage to sing of the season or "say their piece". In this great tradition, one of our finest songwriters comes together with the group that has helped keep the Newfoundland recitation a part of our lives.
Laughter will ring, heart strings will be tugged, and the season will be celebrated in fine Newfoundland style.
More information at: http://rca.nf.ca/event/a-time-in-the-old-hall-3/
—-
At Volunteer St. John's we do our very best to make sure event information is accurate and reliable; however, mistakes or unannounced changes may occur so we do not guarantee accuracy and will not be held responsible for errors. If your event is listed incorrectly or if you would like to provide additional or more accurate information please
contact us
.
Social Media Links
Get Directions
More events at LSPU Hall
No Entries Found
Other Events