This event has finished (it's expired)!
Community Spirit Treasure Hunt
Presented by:
Guide to the Good and Dominique Hurley Intuitive Art & Inspiration
Category:
Arts and Entertainment
Price:
$0
Date:
April 1, 2022 – April 30, 2022 (Repeats Every Day)
Time:
9:00 AM – 5:00 PM
Address:
St. John's, Newfoundland and Labrador,
Website:
https://www.dominiquehurley.com/treasurehunt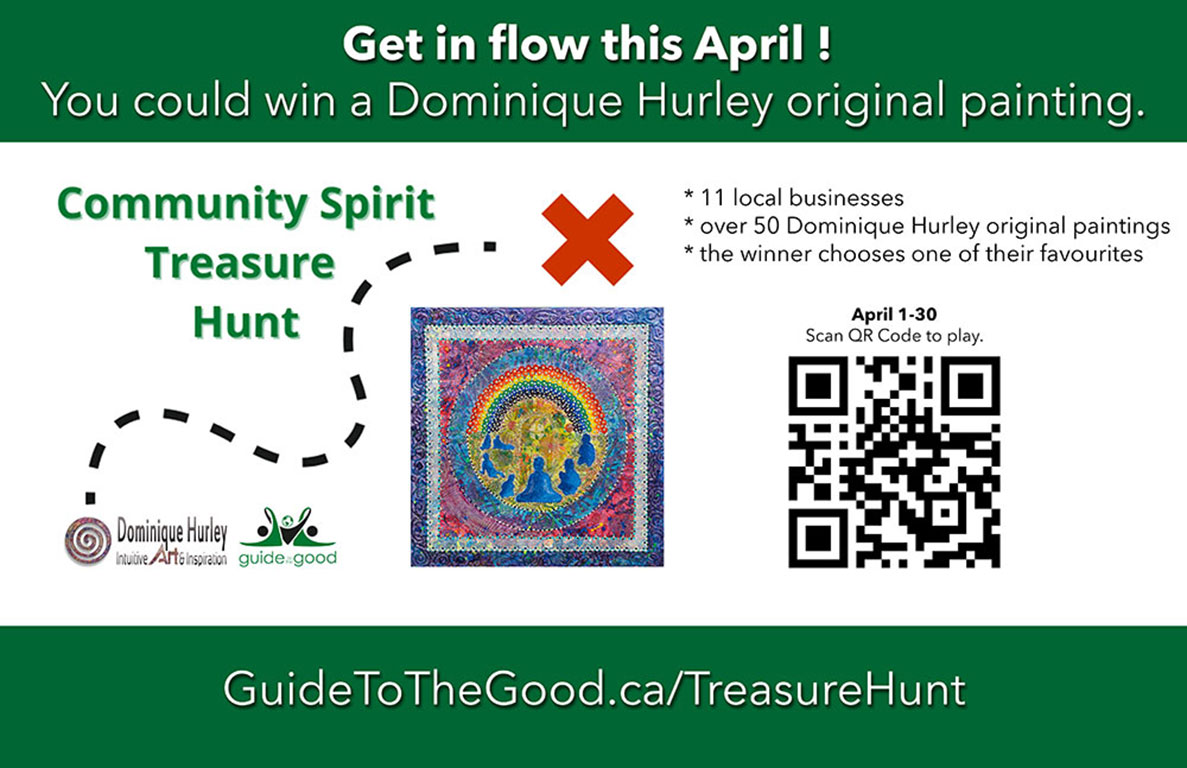 April 1-30, 2022
Let's welcome Spring & get the energy flowing again in the St. John's NL metro area.
You could win an original Dominique Hurley painting!
Find clues at 11 awesome local businesses hosting my art.
Play in English or French, Online or Print to Play.
Visit all locations between April 1-30th and answer the 2 questions per location.
Submit your form online by 5 PM April 30th (or paper form at The Grounds Cafe by 5pm April 30th). The winning entry must have all the correct answers.
The lucky winner will win his/her favourite Dominique Hurley original painting (value up to $500).
Together we're stimulating the energy & creativity in our community.
Know that by playing and sharing, you're making a difference.
HOURS VARY BY LOCATION. Check each location online before you go.
Find out more http://www.DominiqueHurley.com/TreasureHunt
OR
http://www.GuideToTheGood.ca/TreasureHunt
Thank you to all partners / collaborators:
*TVAL, 151 Water Street
*Johnny Ruth, 183 Water Street
*The Outfitters, 220 Water Street
*The Natural Vibe, 306 Water Street
*The Seed Company by E.W. Gaze (Gaze Seed Co.), 138 Harbour Drive
*Posie Row & Co. 210 Duckworth
*Elaine's Books & Café, 208 Duckworth
*Food for Thought, 84 Gower Street
*The Rocket Bakery, 9 Churchill Square
*Newfoundland Chocolate Company, 141 Torbay Road
*The Grounds Café at Murray's Garden Center on Portugal Road.
#social #golocalbevocal #ExperienceLocal #thinkplanetlivelocal #Newfoundland #Spring2022 #stjohnsnl #g2g #CommunitySpiritTreasureHunt #energyflowing #buylocal #supportlocal
#dominiquehurleyart
—-
At Volunteer St. John's we do our very best to make sure event information is accurate and reliable; however, mistakes or unannounced changes may occur so we do not guarantee accuracy and will not be held responsible for errors. If your event is listed incorrectly or if you would like to provide additional or more accurate information please
contact us
.
Social Media Links
Get Directions
A1C 1B1