Impresario
Presented by:
Resource Centre for the Arts
Category:
Arts and Entertainment
Price:
$11.50
Date:
May 18, 2017 – May 18, 2017
Time:
8:00 PM
Address:
3 Victoria Street, St. John's, Newfoundland and Labrador A1C 3V2
Website:
http://rca.nf.ca/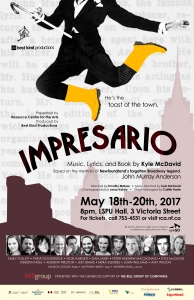 Based on, and including text from, the memoir "Out Without My Rubbers" by John Murray Anderson & Hugh Abercrombie Anderson. An original biomusical based on the life and memoirs of St John's born John Murray Anderson. From the streets of late 1800's Newfoundland to the uppermost echelon of Broadway notoriety as a revue producer, Anderson's journey is one of love, loss and overcoming adversity.
Music, lyrics and book by Kyle McDavid
Directed by Timonthy Matson
Produced by Best Kind Productions
Presented by Resource Centre for the Arts
eyeGO tickets for high school students are available by phone or at the Hall Box Office.
—-
At Volunteer St. John's we do our very best to make sure event information is accurate and reliable; however, mistakes or unannounced changes may occur so we do not guarantee accuracy and will not be held responsible for errors. If your event is listed incorrectly or if you would like to provide additional or more accurate information please
contact us
.
Social Media Links
Get Directions
More events at LSPU Hall
No Entries Found
Other Events