Mount Pearl Frosty Festival
Organization Type:
Other Nonprofit
Address:
Mount Pearl, Newfoundland and Labrador
Contact:
Olivia Bursey
Website:
http://www.frostyfestival.ca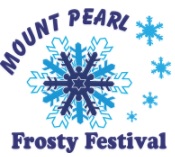 The Frosty Festival has been a fixture in the City of Mount Pearl for over 3 decades. It began in 1983 as a volunteer-driven initiative that was organized by a group of community organizations.
Now, as it enters its 36th year, the Frosty Festival has grown into the largest winter event of its kind in Atlantic Canada.
The Frosty Festival offers a quality package of diverse entertainment that caters to all sectors of the population to encourage both indoor and outdoor activity during the winter.
The Festival prides itself on keeping admission costs low to encourage maximum participation within the community.
Mount Pearl Frosty Festival's Volunteer Opportunities
No Entries Found
Contact Mount Pearl Frosty Festival
Get Directions
Mount Pearl, Newfoundland and Labrador